imageFORMULA DR-C130
The high-speed and intuitive DR-C130 adds value to offices and workgroups with a full-suite of professional software and seamless cloud integration, making it easy to capture and share information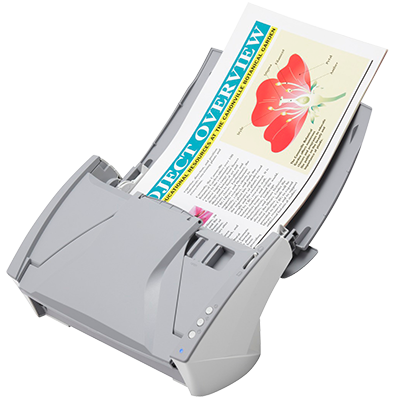 Benefits
High speed duplex scanning up to 60ipm in colour
Reliable paper handling with double feed release
Ultra Compact and versatile design
Includes powerful software suite
Cloud service plug–ins to Google Docs, Evernote and SharePoint
Detailed Features
Take a more detailed look into the Canon imageFORMULA DR-C130
Fast, productive scanning

High speed scanning at up to 30ppm/60ipm is achieved in both colour and B&W thanks to the Canon's innovative CMOS contact image sensor and high brightness LED technology. The ability to scan duplex documents at a single pass will accelerate your document workflows while a 50 sheet document feeder lets you maintain a high level of productivity. The DR-C130 is up to 50% more energy efficient than its competitors in the market.


Easy to use

The front panel operation makes it easy to stop, start and resume scanning with a touch of a button. You can also register scan jobs using CaptureOnTouch software, and assign a job to the start button to allow for a quick execution of frequent scanning operations. CaptureOnTouch also incorporates a Full-Auto Mode function, which automatically applies the best settings to scan jobs saving you time.


Maintain exceptional productivity

The DR-C130 conveniently handles a variety of media from embossed card to long sheets up to 3m in length. The scanner's three-way tray design lets you scan with the eject tray; closed, opened or half-opened providing versatility where desk space is at a premium. Reliable scanning is also achieved with the convenient double feed release system lets the user to 'ignore and continue' scan jobs, in special cases when scanning an envelope or document with a sticky note attached.


Advanced image quality

The DR-C130 comes with a variety of image processing features to help you achieve outstanding quality results every time. Features such as deskew, skip blank page and text orientation recognition enable precise and accurate image reproduction.


Seamless cloud connectivity

You can scan and save documents directly to cloud applications including SharePoint, Evernote and Google Docs. Information can then be retrieved using your smart phone or PC. An EMC Captiva Cloud Capture Run Time module is also available for the DR-C130, making it possible for developers to effortlessly create web-based scanning applications.


Full-suite of 'out the box' software

The DR-C130 comes with a full range of premium software to help you produce highly professional scanning results and create, edit and manage document workflows. This includes CaptureOnTouch, CapturePerfect, BizCard, OmniPage, PaperPort, eCopy PDF Pro Office and Kofax VRS.
Product Specification
Find out more about the Canon imageFORMULA DR-C130, its features and what it can do.

Scanning speed A4 (single sided)

Automatic document feeder




Included software
Learn more about the software included with this scanner.
Canon applications
CaptureOnTouch 2
With CaptureOnTouch user-friendly interface you can easily scan paper documents into digital archives and save or send them to multiple destinations, including cloud services. Create searchable PDF files using its built-in OCR technology.
Compatibility: Windows
Capture Perfect
Powerful application allowing you to quickly and efficiently batch scan documents. It offers advanced output options alongside multi-window and thumbnail views.
Obtain precise digital documents every time with a range of features that remove skew, improve legibility and sharpness
Scan directly to email, PDF, file or presentation at the touch of a button
Register routine jobs, and edit, rearrange or manage files effortlessly
Kofax VRS support
Compatibility: Windows
Learn More >
Applications from other software developers
eCOPY
A powerful, easy-to-use application for viewing, creating, editing and converting PDFs. eCopy offers a complete mark-up, annotation and editing capabilities including creation of filling forms with automatic form field recognition .Full suite of document security and signature tools is included.
Compatibility: Windows
Paperport 

Take document management to the next level with the easy-to-use but powerful software helping you to get the most from your Canon scanner. Scan, organize, search and share documents to eliminate paper clutter and effectively organize your home office.
Compatibility: Windows
OmniPage
With the built-in OCR technology, OmniPage transforms documents scanned via your Canon scanner into easily editable contents. You can convert paper documents into editable digital files maintaining the same layout as the original document – complete with columns, colours, pictures and graphics.
Compatibility: Windows
Presto BizCard
Never lose touch with your business contact thanks to the Presto! BizCard software for your scanner. It helps you quickly and easily convert the vital contact information from business cards into a searchable and editable digital database that can be easily managed and synchronised.
Compatibility: Windows, Mac
Presto PageManager
PageManager is a powerful tool for Mac users offering effective document management. It has built-in simple text recognition (OCR) and enables you to store, edit, organise and share your scanned digital documents. Professional files processing is combined with a simple user interface.
Compatibility: Mac
Software Developer Kit
Our Business Solutions Developer Programme (BSDP) is dedicated to give you access to a range of technical information to assist development of applications for our range of business products. For more information on our SDKs, please visit the Canon Developer Programme web page.
or